"Fly" is a song by Canadian recording artist Avril Lavigne. It was released on April 16, 2015, for digital download by the Special Olympics, Inc. Lavigne released the song as a charity single for The Avril Lavigne Foundation to support the 2015 Special Olympics World Summer Games. The song was written by Lavigne, Chad Kroeger and David Hodges. All the proceeds from the single will be contributed to the ongoing work being done by the Avril Lavigne Foundation.
"Fly" was written during the sessions for Lavigne's fifth studio album. It was inspired lyrically by the people she had met through her Foundation, which raises funds for young people living with disabilities and serious illnesses. The song was recorded in 2012 with the intention of being on the album, but it didn't make the final cut. Lavigne later mentioned the song in interviews, and her desire to release it in the future. After suggestion from her fanbase, she chose to release the song as a charity single to coincide with the 2015 Special Olympics World Games. Lyrically, the song sings about overcoming any obstacles someone might face. Originally, the song had a more pop production but Lavigne scrapped it for a more stripped-down, vocal-driven version. According to Lavigne, the song is composed of a "piano, orchestra and kick drum."
In September 2014, Charles Miguel Ignacio as part of the Avril Lavigne Foundation's support for Special Olympics, Lavigne launched a campaign for her 30th birthday, which raised funds to support 30 Special Olympics athletes competing in the 2015 Special Olympics World Games. During her 2014 World Tour, Lavigne visited a local Special Olympics Program in Shanghai to learn more about their work, and met with and invited more than 200 Special Olympics athletes to her shows in 14 countries. "Fly" was released 100 days before the start of the 2015 Special Olympics World Games, which took place from July 25 till August 2, 2015 in Los Angeles.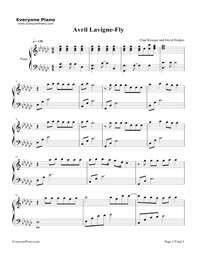 "This song means a lot to me personally," Lavigne said of the track. "It is inspired by the many young people I've met throughout my work with my Foundation. They pursue their dreams no matter what obstacles they face… Special Olympics' mission is to unleash the human spirit through the transformative power and joy of sports, so they're a natural fit for this song." she added.
[wiki] https://en.wikipedia.org/wiki/Fly_(Avril_Lavigne_song)
Avril Lavigne was struck down in the second half of 2014 with Lyme disease, a bacterial infection spread by infected ticks. Lavigne described how her struggle with the illness spurred her to work on the project: "I feel like I have a responsibility – I can't just sit on my ass and do nothing… I'm doing things at my speed and never being too overwhelmed, like the way I have in the past," she said. "I really want to enjoy everything, because life is good. And even though this circumstance is unfortunate, I think there are a lot of positives with it. I'm definitely choosing to view it that way."