"That's What Friends Are For" is a song written by Burt Bacharach and Carole Bayer Sager. It was first recorded in 1982 by Rod Stewart for the soundtrack of the film Night Shift, but it is better known for the 1985 cover version by Dionne Warwick, Elton John, Gladys Knight and Stevie Wonder. This recording, billed as being by "Dionne & Friends", was released as a charity single for AIDS research and prevention. It was a massive hit, becoming the number 1 single of 1986 in the United States, and winning the Grammy Awards for Best Pop Performance by a Duo or Group with Vocals and Song of the Year. Its sales raised over US $3 million for its cause.
Warwick, who had previously raised money for blood-related diseases such as sickle-cell anemia, wanted to help combat the then-growing AIDS epidemic because she had seen friends die painfully of the disease.
Elton John played piano and Stevie Wonder played harmonica; the two had previously worked together on 1983's "I Guess That's Why They Call It the Blues".
[wiki] https://en.wikipedia.org/wiki/That%27s_What_Friends_Are_For
Warwick was one of the first artists to reach out to the AIDS community by recording this song. She explained: "It was kind of given to the problem itself to raise funds and awareness. Those who felt they didn't want to be involved with it-to be seen giving money or being heard talking about the crisis-that song was an avenue to reach out without any stigma."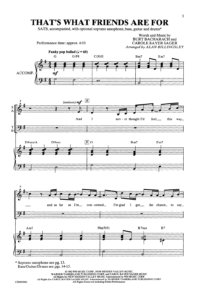 Warwick was also asked how this song has endured in other arenas outside of the AIDS connection. The singer replied: "I've gotten into wonderful conversations regarding the song being used for graduations, weddings, births, somebody's birthday, or just friendship in general. You know, in all of those instances, they get it."
"Dionne & Friends" was originally just Dionne. She recorded a string of hits written by Burt Bacharach and Hal David in the '60s before an acrimonious parting with the songwriters. She finally reunited with Bacharach to record the theme song to a short-lived 1984 TV series called Finder of Lost Loves.
Bayer Sager suggested that Warwick record "That's What Friends Are For," but when Dionne heard it, she envisioned it as a duet with Stevie Wonder. Dionne put down her tracks, and when Wonder arrived to do his part, Elizabeth Taylor and Neil Simon dropped by. Knowing of Taylor's commitment to AIDS research, Bayer Sager suggested they made the song a charity effort, and all agreed it was a great idea. They decided to add another singer to the mix, so Gladys Knight was invited. The last piece of the puzzle was Elton John, who was suggested by Clive Davis, head of Arista Records (which released the single).