"Waiting on the World to Change" is a song by American singer-songwriter John Mayer. It was released as the lead single from his third studio album, Continuum (2006), on August 1, 2006. The song enjoyed commercial success as a single and won the Grammy for Best Male Pop Vocal Performance at the 49th Grammy Awards.
The song's theme centers on the singer and his generation's inaction in regard to current world conditions. However, he attributes this inaction to a lack of power:
Now we see everything that's going wrong
With the world and those who lead it
We just feel like we don't have the means
To rise above and beat it
He also laments the corruption among leaders:
It's not that we don't care,
We just know that the fight ain't fair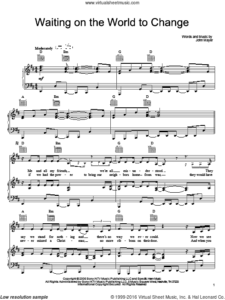 John Mayer confirmed this feeling of discontent between the leaders and that led to an interview with The Advocate, explaining the song this way: "It's saying, 'Well, I'll just watch American Idol because I know that if I were engaged in changing anything for the better, or the better as I see it, it would go unnoticed or be completely ineffective.' A lot of people have that feeling." Even so, the song alludes to hope for the future, with the singer intoning that with his generation's ascension to power, things will change:
One day our generation
Is gonna rule the population
So we keep on waiting
Waiting on the world to change
Politics was a topic that Mayer had not previously tackled. On his decision to include a politically tinged song, he commented, "You cannot avoid war in life, you cannot avoid the fear of terrorism, you cannot avoid those things now, they are a part of everyday demeanor. So in that sense it's become more of an acceptable thing to comment on because it's just so much of a white elephant."
Even though Mayer wrote the song, he is not saying he is above making changes himself. The beat of the music also keeps with the theme of a steady pace. The beats are long and at a slow tempo. The combination of his soothing voice and the slow tempo works well with the subtle challenges of his lyrics. Mayer does not yell or force the listener to make changes, but indirectly allows the listener to come to the conclusion that change is best.
[wiki] https://en.wikipedia.org/wiki/Waiting_on_the_World_to_Change